SG赛车3期计划
SG赛车历史记录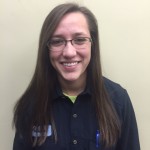 ADC: Why did you choose to interview and accept a position at ADC?
Savannah: The idea of working at a small company really appealed to me. The fact that ADC has multiple types of products meant that I would learn how to work with a variety of engineering processes instead of specializing in one field. After interviewing with a former engineer from ADC, I knew the employees at ADC would be intelligent and fun to work with.
ADC: What did/do you like most about your co-op experience at ADC?
Savannah: Everyone at ADC was incredibly welcoming and took the time to explain how things worked for me. It was great being able to apply what I've learned in classes with real-life     situations. This experience has assured me that I chose a major that I will enjoy for a long time.
ADC: How as ADC prepared you for your future career as an Engineer?
Savannah: Rather than doing intern work such as "getting coffee," ADC gave me projects that were related to my major. I had to think outside of the box and consider alternatives when something turned out different than expected. Classes teach the chemical and mathematical portions of chemical engineering, but in an actual chemical plant you also have to consider the safety and budgeting sides. ADC provided me with great experience I hope to carry on during my next co-op sessions and into my career.
ADC: What are your plans after college?
Savannah: After College, I hope to move somewhere warm and out of state for a couple of years before settling down near my hometown. Also, it's on my bucket list to own a Great Dane, which could happen shortly after college.
Follow Anderson Development Company on Facebook and Twitter!